DECEMBER UPDATES
<![if !supportEmptyParas]> <![endif]>
Fri. 12/31
Kathleen's fever broke entirely today. She did have
several fights with her bite block and tube which are
noticeably disturbing her. Twice she was given a
sedative in order to fix positioning of her bite
block. The respiratory therapist remarked on her
strength, determination, and stubbornness.
Things I've Learned in '04

-Nurses are kind, compassionate and underpaid.

-Most doctors lie, some are cruel, and some are so
unethical they are willing to inflict physical and
mental anguish. Always research what doctors tell you
is "fact." They don't always know the facts and often
don't deserve your trust.

-Not for profit and non-profit are not the same thing

-The health care industry really is about the money

-Some doctors really care about patients rather than
the money, but most of these are young and not yet
jaded.

-The people in the print media are not just about
getting the story at all cost. They care.

- Law firms have a heart.

-The Saratoga Community has been unfairly denigrated.
It gives both time and money without expectations in
return.

- Teenage boys can be mature and compassionate and
aren't too proud to cry.

-I chose my friends well. If ever they need me to
walk a thousand miles for them I will have blistered
feet.

-When I married my beautiful wife, I also married her
beautiful amazing family who have helped hold me
together the past eleven months.

-I'm more proud of my mom and dad now than when I was a kid.

-My sister is an angel and her new husband is amazing.

-My daughters are not only bright, sweet, and
beautiful. They are tremendous troopers in an unfair
situation who hurt very much inside.

-I thought I loved Bean more than myself. Now I know I do.

-Next to love, selfless giving is the greatest treasure.

Kathleen was given a drop of champagne in her feeding
tube at midnight and in her mouth to celebrate the end
of a most miserable year. Good riddance '04.
Here is a letter written to Joe which hits the mark
when it comes to the selfless giving which people have
given to Bean during her ordeal. There are many quiet
heroes who don't ask for recognition, but just give
from kindness.
Thu. 12/30
Kathleen's fever has declined greatly and she is
breathing much better. Even though the machine
continues to assist her with pressure support, she is
now starting every breath on her own. "She is a tough
little tiger."
There was another nice article written about Kathleen
and the family in today's San Jose Mercury News in the Guide section
(a special local section of the paper) by
Dennis Knight. One correction is that Kathleen is
"minimally responsive" she responds to sound, touch,
and occasionally to commands.
Wed. 12/29
Kathleen still fought her high fever today but relaxed
her breathing. Her white blood cell count declined
(which is good), but there may be problems on the
horizon. Kathleen breathing tube is so small that it
will be next to impossible to extabate her as
breathing through it is like breathing through a
straw. Thus, to wean her from the forced oxygen, her
trach may again have to be opened up and then have her
weaned off oxygen that way.
Tue. 12/28
Kathleen had a brutal day. Her fever spiked to 102.8
and she appeared to be coughing up phlegm, but had
trouble swallowing it when it reached her mouth.
Eventually she started spitting it out. The family
couldn't suction her because the device sent did not
have all of the pieces. A Kaiser home health nurse
came and saw Kathleen and suggested she might have
pneumonia. Kathleen's fever came down a bit after
tylenol was given but her heart rate was above 100.
Later Kathleen's doctor called, went over the symptoms
with us and told us to call 911. Kathleen was rushed
to emergency where the stress landed her heart rate
above 130.
While there she seemed alert but very
sad. She was visibly following Mike and Kim around
the room with her eyes. Kathleen's breathing rate was
too high and eventually she had to be intubated to
rest her (long after the doctors thought she would
need to be...she was really fighting) and make sure
the C02 didn't go up in her blood. The problem was
that her trach hole had opened slightly during the
coughing. Kathleen was intubated with an ear, nose,
and throat doctor standing by for an emergency
tracheotomy. The procedure went well and after
fighting the machine for about an hour that was trying
to control her breathing, Kathleen was given a
sedative and her numbers began to move back into the
normal range.
Kathleen arrived at the ER and was placed in exactly
the same room where 1 year and 1 week earlier she
arrived at the hospital after fainting and feeling
chest pains. She was released hours later and told to
be in Olympic level shape. When she asked point blank
whether she could continue to exercise and in
particular do pullups she was told, "I don't see any
reason why not."

For those of you who have tracked Bean for so long and
come to visit her, we would welcome your help watching
and stimulating her while she is at the hospital if
you have the capability. She will likely be in the
hospital for over a week to recover before she returns
home..hopefully to a happier new year.
Mon. 12/27
Kathleen was cooing/moaning for quite some time today
and also trying to clear her throat. She has a cold
and a low grade fever 100.1/
Sun. 12/26
Kathleen had a lazy Sunday spending the day in some of
her new Xmas pj's after a warm shower. She seemed
interested in the Sound of Music the girls were
watching in her room and enjoyed a visit from her
Brother Jim (Shrugg) and his new fiancée Lori.
Kathleen had said the week before her accident that
she wished Shruggy would pop the question to her
because Lori was wonderful and Shrugg deserved to be
happy.
Kathleen began exchanging one liquid shake meal filled
with preservatives for one blended meal filled with
carrot soup and kosher meat. The diet is reportedly
beneficial to both general health and brain repair.

Here is part of a letter from Kathleen's mom to the family
expressing what we all hope and more:

"I pray that in the new year, she will really come
home and that next Christmas will be more celebration than
sadness. I leave you with one picture. The girls, Mike, Kim,
Vari, and Mimi took Bean out for a walk on Sunday. On
the way home, I could see them coming, doing the usual
stragggling. But Rachie was sitting in the wheelchair
on her Mommy's lap and she looked so happy and at home."
Sat. 12/25
Christmas Day was fairly quiet for the family.
Kathleen had a shower, stood in the standing frame and
probably wished she could share in Mike and Kathleen's
tradition of Chinese food on Christmas.

Santa came and brought presents to the girls...way too
many..and Kathleen woke up to see the girls and their
cousins hectic unwrapping of the gifts.

The family plans a quiet evening with Kathleen with
some laughing, movies, popcorn and a few tears.
Fri. 12/24

It has now been 11 months since the worst day in our
collective lives. The ramifications of the event
still arise everyday, but the greatest loss is
Kathleen's influence in our daily lives. We still feel
her presence, but her empathy, laugh, sense of humor,
and excellent advice are sorely missed in this world and
we await her return.

Kathleen had a shower this morning, got the bounce
back in her curls and looked absolutely radiant in her
Christmas outfit in preparation for the family's
arrival.

Merry Christmas to everyone.
Thu. 12/23
Kathleen had another good day today. She "just looks
better" since she has been at home. Her face is looser
and she sometimes turns to hear the girls when they
are laughing in her room.

Thanks again to Devcon for making a room which is not
only functional, but beautiful, and the place where
the girls want to spend their time.
Wed. 12/22
The alumni game raised over $4500 for Kathleen's
ongoing care and Samantha and Rachel's trust fund.
Thanks again to everyone who participated (game stats
can be found at
http://www.geocities.com/imperialpref/Basketball/saratogabasketball.html
). Special thanks go to Jon Chin, Paul Webster, Mike
Crosby, and Karen Hyde.
Tue. 12/21
Kathleen had another good day today. She "just looks
better" since she has been at home. Her face is looser
and she sometimes turns to hear the girls when they
are laughing in her room.

Thanks again to Devcon for making a room which is not
only functional, but beautiful, and the place where
the girls want to spend their time.
Mon. 12/20
Kathleen is finally scheduled to see a Kaiser Physical
Therapist for a consult today.
The Saratoga High School basketball team is going to
play its alumni @ 5:30 pm on Wednesday. The event is
morphing into a fundraiser for Kathleen and will be
followed by an alumni versus alumni matchup.

The Davey family is looking for advice from
nutritionist who might be able to advise the family on
proper nutrition for the brain with food given through
a g-tube.
Sun. 12/19
Kathleen was very vocal throughout the day. She made
cooing noises on her exhale and seemed to be
attempting to talk. Later in the day she greeted two
friends who came to visit with something which sounded
like "Hi."

Kathleen had her first shower since she came home
today because the shower chair "a luxury item" finally
arrived and was put together by super mechanic brother
in law Chuck Martins.
Sat. 12/18
Kathleen enjoyed a relaxing day in which many friends,
including some from high school came to visit. She
also spent quite awhile on her new back porch enjoying
the sun.
Fri. 12/17
Kathleen had a cardiology appointment this morning to
once again try and discover what happened and also
determine how strong her heart is now.

Kathleen is having her room redecorated after the move
in. There is a need for endless towels, shower
curtains, window shades, sheets, etc. The room is
being decorated to be both functional and stimulate
Kathleen.

Kathleen took a walk around the block in her
wheelchair with her friend Maria today and later sat
on the front porch and watched Mike put up the
Christmas lights
Thu. 12/16
Kathleen smiled at the cat today and moved her fingers to pet
him!
Wed. 12/15
Kathleen had another relaxing day.  She did well in
physical therapy, was awake in the afternoon and slept
well at night.  Again she had significant time with
her daughters until Samie slipped upstairs and quietly
prayed for her mommy.  The cat Teddy (link) Roosevelt
also enjoyed having his mommy back.
<![if !vml]>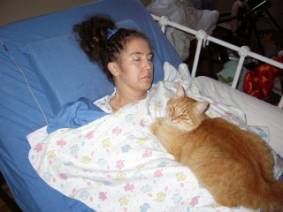 <![endif]><![if !vml]>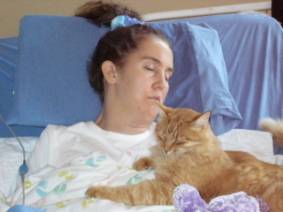 <![endif]><![if !vml]>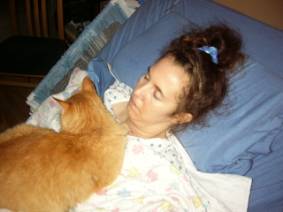 <![endif]>
Tue. 12/14
Kathleen had another good day.  She finally slept
through the night and remained relaxed and sleepy all
morning.  She also had a good speech therapy session
and enjoyed her numerous visits.  She seems
particularly in tune with her daughters in the
evening.
A Kaiser RN arrived today and spoke with the family
regarding Kathleen's follow up care plan and checked
out Kathleen.
Here is a letter from Yvette, the Director at Almaden.
Mon. 12/13
Kathleen had an excellent day.  She was very alert and
focused throughout the day and her eyes darted around
the room with seeming purpose.  She also shattered her
old record in the standing frame (40minutes) by
standing for an hour.
An ex-student on Mike's who recently heard about
Kathleen's tragedy wrote this letter to Mike.
Sun. 12/12
The generosity of the individual people in this valley
is truly outstanding.  Organizations too such as the
American Heart Association and Red Cross have offered
to help with classes to Kathleen's caregivers.  The
family is humbled and grateful for  the outpouring of
help offers we have received.
Kathleen had another wonderful day at home.  She has a
distinctly different look about her at home.  She has
not slept very well the first two nights though. 
The family is still confused by the home health care
process regarding doctor's visits, RN visits etc.  No
clarification from Kaiser as of yet on the process or
when the orientation, which was supposed to happen
Saturday might happen.
Sat. 12/11    
WELCOME HOME KATHLEEN!
<![if !vml]>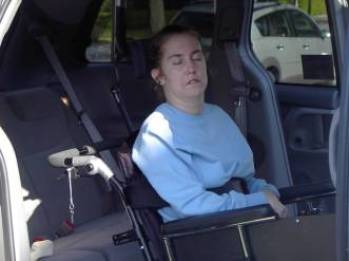 <![endif]> <![if !vml]>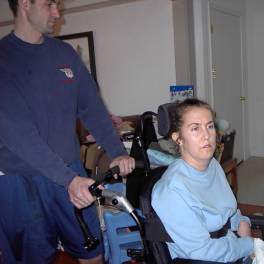 <![endif]><![if !vml]>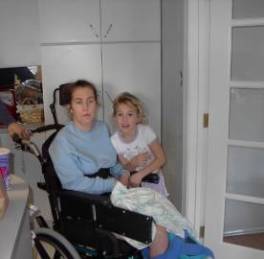 <![endif]>
<![if !vml]>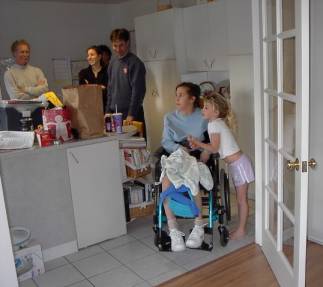 <![endif]>
Kaiser backed down and is letting Kathleen go home
today, Saturday, Dec. 11th. They are releasing her
with a case of food, 10 – 4' bottles of oxygen, and an
IV pole and a suction tube. Everything else is
considered to be a "comfort" or "luxury" item apparently.
The family will be doing a lot of medical supply shopping
Saturday morning. Mike's team lost in overtime
so Kathleen's homecoming has been moved up to 2ish.
Welcome back Kathleen!
A small Christmas miracle for those of you who have
experienced a remodel. Devcon construction
who was entirely unobtrusive during construction finished the
project ON TIME, and WAY UNDER budget. There is no
way we can thank Devcon enough other than to give them the
highest recommendation. Thanks in particular to Gary,
Phil, Bill, Ray and the subcontractors who worked so
hard and finished a bright, sunny, well lighted room and
wheelchair shower which can only help Kathleen's recovery.
Kathleen was unbelievably relaxed on her first day
home from Almaden. The family was able to fumble
through the day, figure out her medicines and much of
her equipment thanks to the nurses and CNAs at Almaden
who gave intricate instructions prior to her departure
at 1:30pm. The family rushed around all morning to
obtain the equipment listed as luxury items by Kaiser
such as pill crusher so she can take her medicines.
No Kaiser home health aid or nurse was there to greet
the family as promised. In fact, there has been no
contact whatsoever from Kaiser representatives despite
the fact that 100 yearly visits to the house are
covered by Kathleen's health plan. It seems
irresponsible to not show the caregivers and the
family how to operate the few medical devices they did
provide. On the positive side, however, the family
has remained in contact with her doctor (Dr. Chin) who
has been very helpful making suggestions.
Fri. 12/10
Here is Joe's email regarding the situation.
Kathleen has been sweatier than normal the past few
days but her digestive issues have cleared up this
week.

After a good discussion with Dr. Chin yesterday, the
proper medicines were ordered and Kathleen was cleared
for discharge.

Kathleen's last full day at Almaden was filled with
excitement. There was a staff and resident Christmas
party with Santa Claus that Rachel attended and
numerous tearful goodbyes. Studies regarding Skilled
Nursing Facilities suggest that patients regress while
there. At Almaden, not only did Kathleen continue to make
incremental improvements, but we also watched as other patients
were rehabilitated. The only explanation is that the
people of Almaden are well trained, and more
importantly, they care deeply about their residents.
Thank You! We will not forget you and each of you has
an open invitation to visit Bean.
Thu. 12/9
On December 1st, Kaiser stopped paying for Kathleen's
daily nursing care help.  Then the family requested
medical equipment for Kathleen's home treatment and
prepared to pay the daily wages necessary for the
people assisting her.   Less than 48 hours prior to
Kathleen's return home Saturday, Kaiser went a step
further and sent the following notice to the family.
"This notice is to inform you that your request for
pulse oximeter machine, defibrilator, diapers,
antibacterial supplies, shower chair, exercise table,
triangle wedge, portable ramp, pill crusher, blood
pressure cuff digital, wrist brace, gowns, towels,
wash cloth, linens chux, gloves, masks, gauze pads has
been denied."
The letter goes on to say that "this item (sic) is
considered to be a comfort, convenience or luxury
item." 
Kathleen had a sleepy morning.  She began geting good
bye visits from Almaden workers who will not be in for
her departure on Saturday.  The care at Almaden
has been not just professional, but like a second family.
Wed. 12/8
Kathleen again was very tense today.  She was better
with her food, but varying explanations from a cold to
being a bit distressed about the upcoming move
(planned for Saturday afternoon) don't seem sufficient
to explain the rise in her tension.  She was VERY
stiff today with her wrists bent downwards badly. Her
heart rate was also high at times today (up to 132)
and she was sweating profusely.
Kathleen had no digestive difficulties today, but had
trouble sleeping.  She only got about 3 hours sleep
tonight, then proceeded to sleep much of Thursday
morning.
Korean scientist make another stem cell breakthrough.
Tue. 12/7
Kathleen slept much time abnormally tight/contracted,
even her hands when she was sleeping. She was also
very sensitive to touch.
Mon. 12/6
Kathleen is still struggling with her vomiting issue. She dry heaved
during her shower this morning and again late at night. Doctors are
evaluating her medicine and feeding schedule and will temporarily
hold her olive and Omega-3 oils.
According to the Kaiser "evidence of coverage" Kaiser Permanente
is required to provide the medical equipment necessary for home
health care. Both the book and Medicare standards suggest KP's
responsibility in this regard.  The Davey family submitted a list to KP
yesterday of the items they think are necessary for Kathleen's
proper care.  Response is yet to come.
Here is the Cal-Hi Sports Segment on Mike and Kathleen in Windows
Media Video format.
Sun. 12/5
Kathleen's eyes are normally dilated since her brain
injury.  Yet there are moments when they become normal
and she is more responsive.  This morning there were
many such moments and she was alert and responsive.
Again around 1 pm, however, Kathleen threw up.
Kathleen digestive tract also is in distress and the
family is worried about her health and strength prior
to her return home and asking for some tests.
Kathleen slept soundly throughout the rest of the
afternoon seemingly exhausted after her emesis episode
and missed the touching piece on Cal-Hi Sports (please be patient-
it's a large file) regarding her return home and the basketball
team's struggle with the situation.  Her daughter Samie,
however, watched with tears streaming down her face.
Sat. 12/4
Kathleen came home Saturday to be part of a training
session with her future caregivers and family. Her OT
led the training and Kathleen did very well for over
four hours at home.

Kathleen was very tight again in the evening and
seemed to be thinking or worrying about something.

Kathleen's plight and how it effected the Saratoga
High School Basketball team will be addressed on Cal
High Sports this weekend. The show airs on Sundays
at 4:30pm and replays Mondays at 7pm on KRON and
Thursdays on Fox Sports Net.
Fri. 12/3
Kathleen was able to hold down her food today despite
a change in her neurogenic diet.

Again Kathleen was tighter in the evening, but then
she fell asleep earlier than normal and relaxed.
Thu. 12/2

Kathleen seemed pretty sick today and had quite a bout
of emesis. The family is a bit concerned with the
number of times she throws up in a week. Aspiration
of stomach contents can be a much more serious and
difficult problem to combat than one from an
aspiration or an acquired pneumonia.

Kathleen did get a bit of time in the fall air/sun and
showed off her new beautiful fleece shall jacket made
by a well wisher, Ann. The two girls have beautiful
matching jackets.
Wed. 12/1
Kathleen's daily standing frame therapy (designed to
activate her brain in a different position and prevent
contractures in her ankles, knees, and hips) has been
reduced to three times a week. A previous doctor
consult suggested that when she lost her range of
motion and these things happened, "she could just have
surgery to correct the problem." It is intriguing
that Kaiser's $40million Thrive campaign which
suggests that "health isn't an industry, it's a cause"
really just comes back to industry when it involves
money spent on the patient.

For Kathleen and her family every day is a challenge.
Yet, as cliche as it might sound, love inspires all of
us to keep fighting for her life. We hold each other
up when our spirits are low with the help from an army
of volunteers who make clothes for Kathleen, sit with
her, massage her and give her love. To the doctors
who said "let her go" "her wife isn't worth it" and
"if she lives it is a double edged sword," we will let
Mother Teresa's words respond:
LIFE IS AN OPPORTUNITY, BENEFIT FROM IT.
LIFE IS A BEAUTY, ADMIRE IT.
LIFE IS, BLISS TASTE IT.
LIFE IS A DREAM, REALIZE IT.
LIFE IS A CHALLENGE IT, MEET IT.
LIFE IS A DUTY, COMPLETE IT.
LIFE IS A GAME, PLAY IT.
LIFE IS COSTLY, CARE FOR IT.
LIFE IS WEALTH, KEEP IT.
LIFE IS LOVE, ENJOY IT.
LIFE IS MYSTERY, KNOW IT.
LIFE IS SORROW, OVERCOME IT.
LIFE IS A SONG, SING IT.
LIFE IS A STRUGGLE, ACCEPT IT.
LIFE IS A TRAGEDY, CONFRONT IT.
LIFE IS A ADVENTURE, DARE IT.
LIFE IS LUCK, MAKE IT.
LIFE IS TOO PRECIOUS, DO NOT DESTROY IT.
LIFE IS LIFE, FIGHT FOR IT.

MOTHER TERESA
<![if !supportEmptyParas]> <![endif]>