FEBRUARY UPDATES
<![if !supportEmptyParas]> <![endif]>
Mon. 2/28
Kathleen had a good morning in which she was
significantly looser than yesterday. After goodbyes
to her sister and her family she had a nice warm
shower and relaxed in the wheelchair in the sun. In
the early afternoon therapy began with attempts to get
her to follow commands (in particular "open your mouth
and stick out your tongue.") A visitor working with
her stated,"we worked alot on moving her tongue and
she pushed it several times to the edge of her teeth.
When Connie (her mom) got there, she was able to find
the hand mirror. Bean was really focused. She looked
at her image intently and when I asked her to stick
out her tongue, she got it beyond her lips - several times."
Here is an article on the benefits of blueberry juice.
PLEASE NOTE: There will be a "Caring for Kathleen" 5k Walk/Run
on Sunday, June 5, 2005 at 9:00 a.m. at West Valley College, . All
proceeds will go to the Kathleen Davey Irrevocable Trust. Volunteers
are needed to work the aid stations and offer support for the runners and
walkers. Please see the the button above for view the "Caring for Kathleen"
sign-up form.
Sun. 2/27
Kathleen was tight with intense tone throughout much
of the day. She was alert throughout the evening
Oscar ceremony which she ritually watches with her
sister Sheila and sister in law Kim (while the boys
serve appetizers). The difference between Kathleen
last year and this was noted by all. Still, we miss
you very much Bean and the pain seems more intense daily.
Sat. 2/26
Kathleen threw up in the morning but was able to
control the vomit without any aspiration. She was
suctioned repeatedly following the incident without
any food found in her lungs
Fri. 2/25
Kathleen had a good day spending some time on the back
patio in the sun and loose and comfortable throughout
the entire day.
Thu. 2/24
Kathleen had a doctors appointment with a physical
medicine and rehab specialist today. The appointment
planned out strategy for long term care and
rehabilitation, management of her tone, and possible
alternative therapies. Among other things, it was
noted that vinpocetine, (which the Davey's suggested
and was fought by Kaiser doctors for so long) is a
fairly common supplement outside the United States and
frequently taken even by healthy people for mental
clarity. Kathleen did well on the ride to the
hospital in the van and sat up in the chair for 2.5
hours total during the trip.
More proof that the Kaiser committee last May was dead
wrong (excuse the pun) when it stated that there was
"no evidence that any therapy will revitalize dead
neurons" Brain cells can be re-taught behavior, new
ones can grow, and 'shocked ones' can recover.
http://www.popularmechanics.com/science/research/1281716.html
Wed. 2/23
Kathleen enjoyed her first trip outside in the
wheelchair yesterday after nine days of rain. She was
up in the chair nearly 3 1/2 hours without tiring.

Kathleen was visibly dreaming last night. She made
loud happy and scared sounds in her sleep. Sweet
dreams Bee.
Sun. 2/20- Tue. 2/22
Managing Kathleen's care at home has become a bit
easier. She is much stronger in the chair, has the
lift system in place, the suction now works well, and
the room built by Devcon has been flawless.

Kathleen's color and skin tone have been very good.
She looks, aside from the trach and the lack of the
twinkle in her eye, "normal" and beautiful.

Here is an interesting article regarding stem cell
fraud. The Davey family had researched this company,
and as desperate as they were to find something to
help Kathleen, rejected Biomark and several of its
subsidiaries prior to this article.
Fri. 2/18- Sat. 2/19
Kathleen got her track system installed which should
make transfers from the bed to her wheel chair and
standing frame much easier (and more back friendly).

Kathleen seems to be getting stronger staying in the
chair for longer periods with less stress.

Kathleen seems more responsive to music lately.
Thu. 2/17
Here is an article on a possible alternative use
for a "well- known" drug.
Tue. 2/15- Wed. 2/16
Kathleen was alert and active on Tuesday and
Wednesday. She is sitting in her wheelchair for
extended times, standing in the standing frame well,
and restarting her neurogenic diet.
Here is a new article on possible stem cell legislation.
The Davey family urges you to write to your Congressperson
to support this legislation.
Mon. 2/14
Although we shared many happier Valentines Day
together, you will always have my heart and I will
always love you Bee. Here is one song off this year's
Valentines CD I made for you.- Mike
Sun. 2/13
Kathleen watched her daughters perform a "strawberry play"
for her on this overcast day and continued to improve from her
cold.
Sat. 2/12
Kathleen struggled to cough up her phlegm today. She
was able to get it out on her own, but there was
significant amounts today. She was despite her
efforts to cough, able to get up in the wheelchair
again for close to three hours before she became
utterly exhausted and went back to bed and to sleep.
Fri. 2/11
Here is a promising story about a coma patient with a link
to a video.
Thu. 2/10
Kathleen got up twice yesterday in the wheelchair for
three hours each time. She was tired by the end of
the day and coughing up a significant amount of
phlegm. Again the suction machine was not working
properly, but Kathleen was able to cough it out on her
own.

Sheila, Kathleen's sister who has been coming down
with her family every weekend since January 24th of
last year has been unable to see Bean for the past two
weekends due to a chicken pox outbreak. Reflecting on
the year, she had Mike read this to Bean.
Wed. 2/9
Kathleen had a good visit from a Kaiser physical
therapist today. She sat almost unassisted on the end
of the bed working on her trunk and head control.

Kathleen's cold is finally beginning to wane.
Here's an article on Bush's stance on stem cells and a link
to a video on stem cell research in Asia..
Step forward in the fight against Parkinsons (a
similar though more regional condition to Kathleen's
global brain damage)
New invention comes too late to help Kathleen, but if
you have a similar circumstance for a loved one.
Tue. 2/8
Kathleen was very relaxed today. She had her first
occupational/physical therapy session since before
returning to the hospital in December. She stood for
about ten minutes and apparently didnt lose range of
motion during her hospital stay.
Encouraging news video story from MSNBC. Here is
an article on the topic if the video doesn't work.
Mon. 2/7
Kathleen still has the "family cold." She is
experiencing significant secretions which can be a bit
scary if they plug her trach when she coughs.

Kathleen's has experienced some subtle changes in the
past few weeks. Her jaw is much looser, she's moving
her mouth more, and her eye movement has been more
definite and responsive.
Sun. 2/6
Kathleen enjoyed her second full day at home and for
the first time in awhile stayed awake most of the day.
She particularly enjoyed going on a walk with her
daughters to the community center and seemed to crack
a smile while she watched "Monster Daddy" chase the
girls around on the playground.

Here is a nice note by "Sam's mom."

We appreciate the good thoughts.

There was also an article on Kathleen's homecoming
(and a picture of Rachel and Kathleen) in the San Jose
Mercury News today. Thanks again to everyone who has
supported our family, both financially and physically.
Sat. 2/5
Kathleen has slept through an uneventful day. The
only problems with the homecoming were a malfunctioning
suction machine (which has been fixed) and the
delivery of 3 boxes of the wrong kind of feeding bags.
<![if !vml]>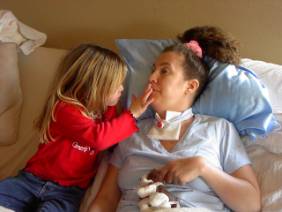 <![endif]> <![if !vml]>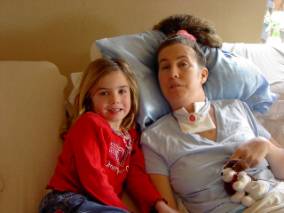 <![endif]>
Fri. 2/4
Kathleen's move home went well. She was greeted with
flowers by the paramedics/fire team that brought her
to the hospital and warm hugs from her girls.

Other than the feeding bags being the wrong type, the
equipment needed for the move home was handled in a
much better fashion this time as was training of the
family.

China is moving toward clinical trials involving
embryonic stem cells: article
Wed- Thu. 2/2-2/3
Kathleen definitely has a cold (as does much of the
family) but the nurses believe she is doing a good job
fighting it by getting lots of sleep and coughing
extra mucous out of her trach. Kathleen has a strong
cough which impresses the nurses.

Kathleen slept virtually all day.
Tue. 2/1
Kathleenís secretions declined dramatically which means
that the Fri. discharge date is still on.
The family continues to train for taking care of Kathleen
when she comes home.
<![if !supportEmptyParas]> <![endif]>