APRIL UPDATES
<![if !supportEmptyParas]> <![endif]>
Sat. 4/30- Sun. 5/1
Kathleen threw up in the middle of the night Saturday
night and had a mild temperature in the morning. The
family is watching her closely fearful of any possible
reoccurrence of pneumonia. Most of Sunday, however,
she had a nice day in the backyard sun with few
warning signs.

Please tell your congressperson/senator to support
stem cell research.
Brief article articulates some of the hope and
challenges of stem cell treatment for people like
Kathleen
Thu. 4/28- Fri. 4/29
Kathleen had two excellent therapy sessions on
Thursday and Friday. She held her head up for much
of the Friday session and impressed everyone with her
strength.

On Friday Kathleen went to hyperbaric oxygen again.
She stopped her angry noise when Mike hugged her and
put the Ipod in her ears playing "Disney music."
Wed. 4/27
Kathleen slept well last night but woke up with a low
grade fever. No other symptoms were present but the
family is being cautious.

The Davey's are still attempting to get Kathleen into
a second arm of a study of either Parkinsons Disease
or Alzheimers. This study looks promising.

If anyone has any contacts at the University of
California at San Diego or Rush University Medical
Center in Chicago, please contact the Daveys.
Here's an article concerning new cell growth in the adult brain
Tue. 4/26
Kathleen went to her second hyperbaric (HBOT)
treatment today. The 90 minute session was fairly
uneventful this time. Kathleen did make some scared
sounds again, but they were short lived. Later she
made some cooing noises when Mike hugged her.

When she arrived home her exercise continued with an
excellent standing frame session where she finally got
her entire left foot to bear weight (which is good for
reducing tone). Afterwards she watched the Simpsons
with her daughters and went to sleep early (probably
trying to avoid her sister-in-laws favorite show,
American Idol
Sun. 4/24
Just a reminder that the 2nd Annul Heart Skate-a-thon
will be held at Logitech Ice Arena in San Jose (1500 S. 10th Street,
San Jose, CA 95112 on Saturday, May 21 from 1:15 to 4 p.m.
Money was raised for the American Heart Association, Heart Rhythm
Society and the Kathleen Davey Fund in equal amounts. Updates
of the event will be posted as the date nears.
Sat. 4/23
Kathleen watched as 13 young kids (friends, family,
and caregivers children) ran around for Samie's
birthday party/sleepover bash.
Fri. 4/22
Kathleen had hyperbaric oxygen treatment
for 90 minutes. During the treatment as the pressure
increased Kathleen made a series of scared sounds but
eventually calmed down. Mike was in the chamber with
her and got a chance to spoon with her for about 1/3
of the session. As projected by the doctor, Kathleen
slept really well during the night.
Kathleen also had an excellent physical therapy session
where she was able to sit on her knees and then bend
into the "cat stretch" position.
Thu. 4/21
Thank you to Los Gatos High School who held their
annual variety show tonight and this year donated the
proceeds to Kathleen's recovery.
Wed. 4/20
Kathleen had a mild throw up episode late in the
evening Tuesday night. The news, however, has
generally been slightly positive for her. She is
moving her head more often and her eye movement has
increased, however she still does not track objects.
Her tone has decreased markedly since the intervention
of casting on her wrist, increased massages, and
increased physical therapy. Doctors at Kaiser, hours
after her admission, said Kathleen's spasticity would
only get progressively worse throughout her life and
that such therapy was useless.
Congratulations to Kathleen's caregiver Abby who
obtained her citizenship today. You go Abby!
Mon. 4/18 - Tue. 4/19
Kathleen went out to dinner with her family and
friends for Samie's birthday. Both Samie and Rachie
insisted on sitting next to mommy at the long table of
friends. Kathleen looked beautiful. Kathleen's left
wrist cast is done and has been replaced by a right
wrist cast. When they are complete, they will be cut
up the side and wrapped to serve as braces for her
wrists and hands
Here's a Brain Recovery article
Sun. 4/17
Kathleen had some significant phlegm in the evening
after being in the garden all day watching the
planting of flowers and vegetables. Kathleen's tone
has been significantly less since she started
receiving regular massages. Thanks to all those who
have volunteered to help.
Sat. 4/16
Kathleen did well through the whirlwind of activity at
her house which involved friends and family helping
clean the house.
Fri. 4/15
Kathleen had a relaxing day including a nice massage
and seemed very relaxed.
Thu. 4/14
Today settelement negotiations between the Davey
family and Kaiser proved unsuccessful. Unfortunately
some irresponsible and entirely unsubstantiated claims
were made about Kathleen, but despite this the Davey's
remain committed to working to find a solution to
caring for Kathleen and the children.
Here's an article on the benefits of fruits and veggies and
another on brain research
Wed. 4/13
Kathleen spent the day grounded by her broken
wheelchair but did fine.

Thirty years ago the California state legislator
approved legislation to limit pain and suffering from
medical malpractice to 250,000. (Here's an article
on the subject.) This figure has never
been increased to match inflation. I never really
thought about this as we were really healthy and it
could "never could happen to us." If Kathleen had not
been working, despite Kaiser's incredibly tragic
failures, there might not have been a case at all as
without earnings the case would not have been worth
taking. Essentially this law has made fairness for
the poor who are tragically effected by medical
malpractice completely unobtainable. Although there
will never be justice for Kathleen's ill treatment,
hopefully there will be fairness in the settlement
meetings which begin today. As president Bush does
his ludicrous dance about the evils of medical
malpractice lawyers, remember the truth. The poor are
the ones who feel the effects of the pain and
suffering caps. Please contact your state legislator
and urge them to raise damages for families dealing
with pain and suffering. It is too late for the Davey
family, but it might not be too late for you.
Tue. 4/12
Kathleen who struggled with early signs of a cold
throughout the evening on Monday suddenly improved
during the night and slept soundly waking up refreshed
for an intense day.
Kathleen had two therapy sessions today. In the
morning she stood on her knees bearing weight on them
for fifteen minutes. During the session she gently
laid her head down on Mike's shoulder while her hugged
her. She sighed and then cooed for several minutes.

In the evening, she stood nearly as well as last
Friday for 30 minutes.
<![if !vml]>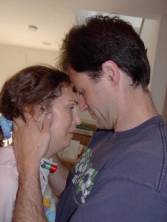 <![endif]>
Mon. 4/11
Kathleen had her left wrist casted today. She
disliked both the procedure and the effect of the
casting which forces her wrist to be straighter than
she normally desires.

The family also met for a second time with a local
doctor who uses hyperbaric oxygen to treat stroke
victims and cp patients. Though the results are
conflicting,, and the costs significant, the family
decided to make a trial run at the procedure this
Thursday.
Sun. 4/10
Kathleen was unusually sleepy on Sunday though she did
wake up for some afternoon sun in the backyard with
her daughters and enjoyed a trip around the block
until the front wheel on her wheelchair broke.
U.S. Stem Cell policy editorial.
Sat. 4/9
Kathleen enjoyed the bustle of the weekly BBQ though
she again seemed a bit stiff. She will have her left
wrist casted on Monday to combat a potential
contracture and wear it after its removal as a brace.
Fri. 4/8
Kathleen had a wonderful (record setting) standing
frame performance this morning. She stood for 50
minutes and held her head and trunk on her own for
much of the time leaning only on her elbows. Go Bean!
<![if !vml]>

<![endif]>
Standing on her own with a little help
holding her foot.
<![if !vml]>

<![endif]>
Focusing intently on standing.

Update on New Zealander who had stem cell implant
Wed. 4/6- Thu. 4/7
Samantha was surprised on Wednesday by a nice turnout
from her class and softball team at a ceremony giving
her a commendation (see attached) for calling 911 to
save her mommy. Thanks to all her friends who came
and Saratoga's City Council for the honor. Samie
rushed home to tell her mommy about the honor and then
wrote in her journal.
<![if !vml]>
<![endif]> <![if !vml]>

<![endif]> <![if !vml]>

<![endif]>
Tue. 4/5
The Saratoga City council will be recognizing Samie tomorrow.
The meeting is at 7pm wed. night in the theater city hall across
from Redwood Middle School on Allendale. 7:00 P.M. - CIVIC
THEATER/COUNCIL CHAMBERS AT 13777 FRUITVALE
AVENUE...agenda is here.
http://www.saratoga.ca.us/councilagenda.htm
Kathleen's tone has decreased significantly in both
her legs and arms. Her phlegm production remains a
concern, but physical therapy sessions (both Monday
and Tuesday) in the standing frame have been very
productive. Kathleen's eye movement and vocalizations
have been more frequent the past few days.
Sun. 4/3
Kathleen enjoyed being up in the chair for quite some
time today. In fact, she spent so long in the
backyard (without her usual sounds of protest or
discomfort) that she got a light sunburn.

Thank you to all involved in putting together the 5th
Annual Saratoga Benefit fashion show. The evening
show featured Samantha and Rachel (now apparently a
ham like her sister) and Kathleen was able to attend
and watch them. Thanks also to the basketball team
for their tribute to the Davey family.
Here is an article Mike found regarding former persistent
vegetative state patients who have awakened.
Sat. 4/2
Please come support the Saratoga High School
fundraiser benefit (this year it is for Kathleen) on
today at 2pm and 6pm.
Fri. 4/1
Kathleen threw up in the morning following lots of
movement, a trach change, and some food. She was,
however, able to "projectile vomit" and didn't
aspirate. Afterward she was still able to stand in
the standing frame and bear weight on her left foot
for the first time in some time/.

Kathleen stayed close to the house on this beautiful
day due to the emesis earlier in the morning. She say
in her wheelchair and enjoyed the nice weather in her
beautiful backyard.
<![if !supportEmptyParas]> <![endif]>